Due to the ongoing Coronavirus outbreak, the Mayor will be attending virtual events over the upcoming months.
Coming up soon...
Tuesday 20th October:  Full Council Meeting
Tuesday 27th October:  Planning & Environment Committee
Wednesday 4th November:  Policy & Review Committee
Wednesday 18th November:  Planning & Environment Committee
Thursday 19th November:  Community & Town Promotion Committee
Tuesday 24th November:  Full Council
Wednesday 2nd December:  Policy & Review Committee
Tuesday 8th December:  Planning & Environment Committee
Tuesday 15th December: Full Council Meeting
--------------------------------------------------------------
Mayor's Civic & Community Events
Friday 23rd October - Malmesbury in Bloom Winners at the Town Hall
Sunday 8th November - Remembrance Sunday
Thursday 10th December - County Carol Service, Wardour Castle - hosted by HM Lord Lieutenant of Wiltshire, Mrs Sarah Troughton

Mayor's Charity Events
Saturday 31st October 6.00pm:  Virtual Halloween Extravaganza - The Mystery of the Missing Charter. 
Production of Malmesbury's exciting Hallowe'en event on Saturday 31st October at 6:00pm is well underway. Join the adventure to solve the mystery of 'Malmesbury's Missing Charter' It promises to be fun, spooky and thrilling. In other words an essential part of your Hallowe'en evening! Suitable for all the family. Tickets just £6:00 for a screen and are available at Malmesbury Town Hall and Eventbrite:
https://www.eventbrite.com/e/virtual-halloween-extravaganza-the-mystery-of-the-missing-charter-tickets-120019727235
It's from the same crew that created the sell out Halloween Walks in 2017, 2018, 2019 and features a great Malmesbury cast and will take you to places in Malmesbury you have never seen before. All funds raised are for the charities being supported by the Mayor of Malmesbury.
Also 5 free tickets to this event if you can answer the following question:  'What year was Malmesbury's Missing Charter granted?  Was it a) 880AD  b) 1066AD or c) 1832AD?'  Send your answer with your email address to This email address is being protected from spambots. You need JavaScript enabled to view it. by Monday 19th October.  The first five correct answers will receive a free log-in ticket for the event.  Good luck!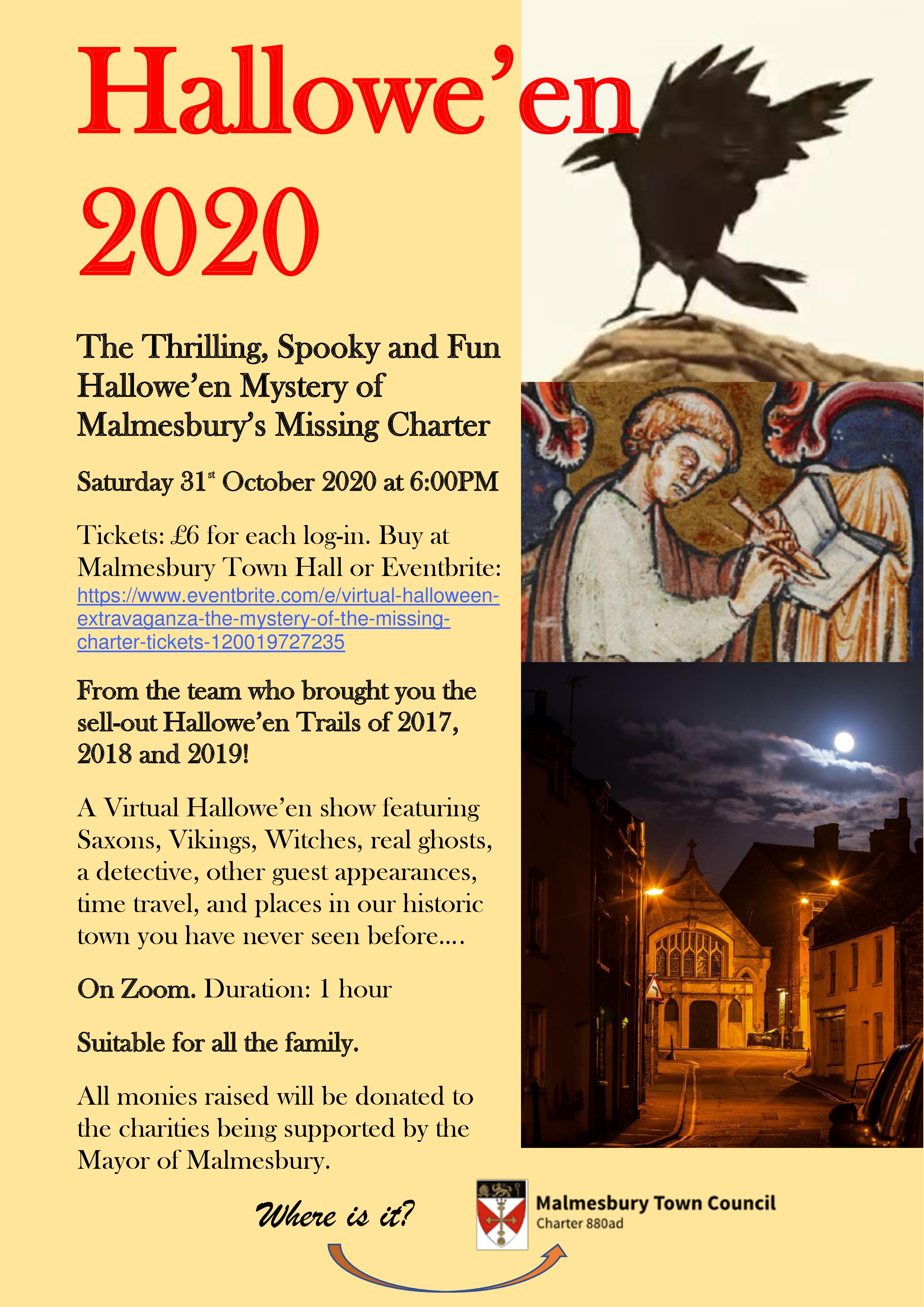 2021 REAL Events - TBC
Friday 5th February:  The Great Malmesbury Debate - Who was Malmesbury's most significant former residents?  Our Mayor and Tony McAleavy go head-to-head with a debate on this very question! 
Saturday 20th March: Mayor's Ball