COVID-19
Visit the Wiltshire Council website for the latest information about our services and COVID-19 support. You can also follow us on Twitter and Facebook.

You can also visit:
Central government COVID-19 updates
NHS updates

Single adult households can form 'support bubbles'
From Saturday (13 June), single adult and single parent households can choose one other household to form a 'support bubble'.

All those in a support bubble will be able to spend time together inside each others homes, including overnight, without needing to stay 2 metres apart. They must be exclusive, so you can't change which household you join with. If anyone in the support bubble develops symptoms, everyone in the bubble needs to self-isolate.
This is designed to help those who are most isolated by current restrictions, whilst keeping the risk of spreading the virus low. It doesn't apply to those who are shielding due to the increased risk to this group, but the government is keeping advice for those who are shielding under constant review.
Non-essential shops to reopen on 15 June
As many non-essential shops, high streets, town and city centres begin to reopen from 15 June, we've provided responses to some frequently asked questions.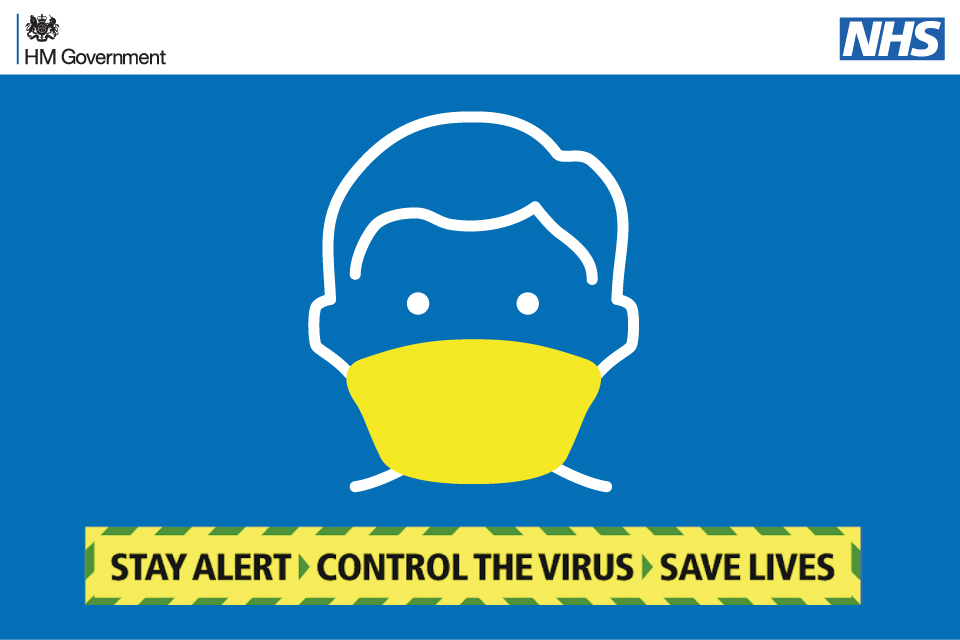 Face coverings must be worn on public transport 
From 15 June, it will be compulsory to wear face coverings while using public transport in England.
Bus, coach, train, ferry and aircraft passengers must wear a face covering to help reduce the spread of COVID-19.
Wherever possible people should continue to avoid public transport and walk, cycle or drive.
How to wear and make a face covering
Quarantine rules when you travel to the UK

Current Foreign and Commonwealth Office advice remains that British nationals should avoid international travel unless it is essential.

From 8 June people entering or returning to the UK are required to quarantine for 14 days to prevent new COVID-19 infections entering the country from abroad.

Under the new measures people will be required to self-isolate at a private residence for 14 days. Exemptions apply for road hauliers and medical officials. See the list of people who are exempt from the English border rules.

When you return to the UK will be asked to fill in a form with your contact information and must not leave the place you're staying for the first 14 days you're in the UK except in very limited situations (known as 'self-isolating'). See the guidance for England, Scotland, Wales and Northern Ireland.

Health officials will perform spot checks to ensure compliance with fines of £1,000 if people fail to comply with the measures.
How to self isolate when you return to the UK
Registering births and notices of marriage

Our registration service is working hard to allow people to attend appointments to register births, and notices of marriage and civil partnerships soon.
The government announced that birth registrations, and notices of marriage and civil partnerships could resume in England from 1 June, so long as public health guidance is implemented to ensure it is safe for residents to visit the relevant buildings.
We are in the process of putting the appropriate arrangements in place to allow people to make face-to-face appointments as soon as possible in a socially distanced, safe way.
The date of the return of the face-to-face service, and the final arrangements, will be confirmed shortly.
Shared Lives carers hold virtual tea parties

Inspirational Shared Lives Wiltshire carers who open up their homes to support young people and adults, will be hosting virtual tea parties and sharing their heartwarming stories online this month.
The carers will be talking about their experiences as part of Shared Lives Week between 15 and 21 June.
Shared Lives is a unique caring arrangement enabling more than 14,000 people nationally with a learning or physical disability, mental ill health, dementia or other ongoing needs, to share their carer's home and family life.
Currently Shared Lives Wiltshire is looking to recruit to the local scheme. People with care and support needs are referred to the scheme and matched with a formerly-recruited carer in Wiltshire. Carers are paid and receive support, training and guidance from the Shared Lives team at Wiltshire Council.
For more information about Shared Lives Wiltshire please visit their Facebook page and follow them on Twitter @SharedLivesWilts.

If you would like to find out more about becoming a Shared Lives carer and sharing your home with someone who needs support, please call 01380 826451 or email the Shared Lives team.
Book online before visiting a household recycling centre

Don't forget you now need to book a slot before visiting a household recycling centre (HRC) in Wiltshire. You can book up to three days in advance and visit any HRC.

Please arrive on time and bring ID with you to confirm your booking and in the vehicle with the registration number the slot has been booked for.